Do you want to be trained in Bridges Out of Poverty? Have you been seeking an opportunity to begin training staff in Bridges Out of Poverty? Here is your opportunity.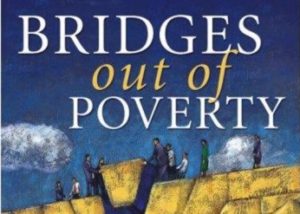 Join us on
April 5
9:00 am – 3:00 pm (lunch on your own)
Berkshire Athenaeum
1 Wendell Ave., Pittsfield
for a FREE opportunity to learn the concepts to better serve our community, understand our neighbors, and become a driver of change in your organization and in the city.
This training is a comprehensive approach to understanding poverty. Bridges Out of Poverty uses the lens of economic class and provides concrete tools and strategies for a community to alleviate poverty.
Participants will review poverty research, examine a theory of change, and analyze poverty through the lens of the hidden rules of class, resources, and language.

Throughout the workshop, participants will receive specific strategies for improving outcomes, but the focus of the workshop is to provide a broad overview of concepts.

This training assists employers, community organizations, social service agencies, and individuals gain insight and strategies.At the training, you will have the opportunity to purchase the book, Bridges Out of Poverty: Strategies for Professionals and Communities for $20.