Our vision: All people in Pittsfield experience a just, thriving and safe community.

The Berkshire Bridges – Working Cities Pittsfield Initiative views Pittsfield as a community of hope and opportunity, where all residents are actively engaged in shaping their city. With informed systems, policies, and services, new avenues are created for capital development so that all individuals living here can work and thrive equitably.
What problem will be addressed through the Working Cities Challenge?
Low-income Pittsfield residents face persistent structural barriers, such as inadequate access to education, transportation, jobs, and opportunities. Combined with obstinate social barriers, individuals and families have limited economic mobility, a lack of hope, opportunity and thwarted aspiration. All of these factors have led to generational poverty. To learn more about the Working Cities Challenge funded by the Federal Reserve Bank of Boston, click here.
How will we do this?
The Berkshire Bridges – Working Cities Pittsfield Initiative is designed to support the journey from poverty to sustainability by collaboratively building community resources and removing barriers. Our goal is to improve individual, institutional, institutional, and social fairness and respect in the community, and thus to support individuals moving out of poverty.
We are committed to using the evidence-based Bridges Out of Poverty model, which has proven to effectively bring people from all sectors and economic classes together in communities around the country. The Team will embed this model into their agencies and integrate a common language, which will help them identify policies, competencies and procedures within their organizations that must be changed to better work with our neighbors. We will become a Berkshire Bridges community, with the aims of ending poverty in Pittsfield. To learn more about Bridges Out of Poverty, click here.
These charts demonstrate how the Berkshire Bridges model operates, and how it will be a transformational movement for our community.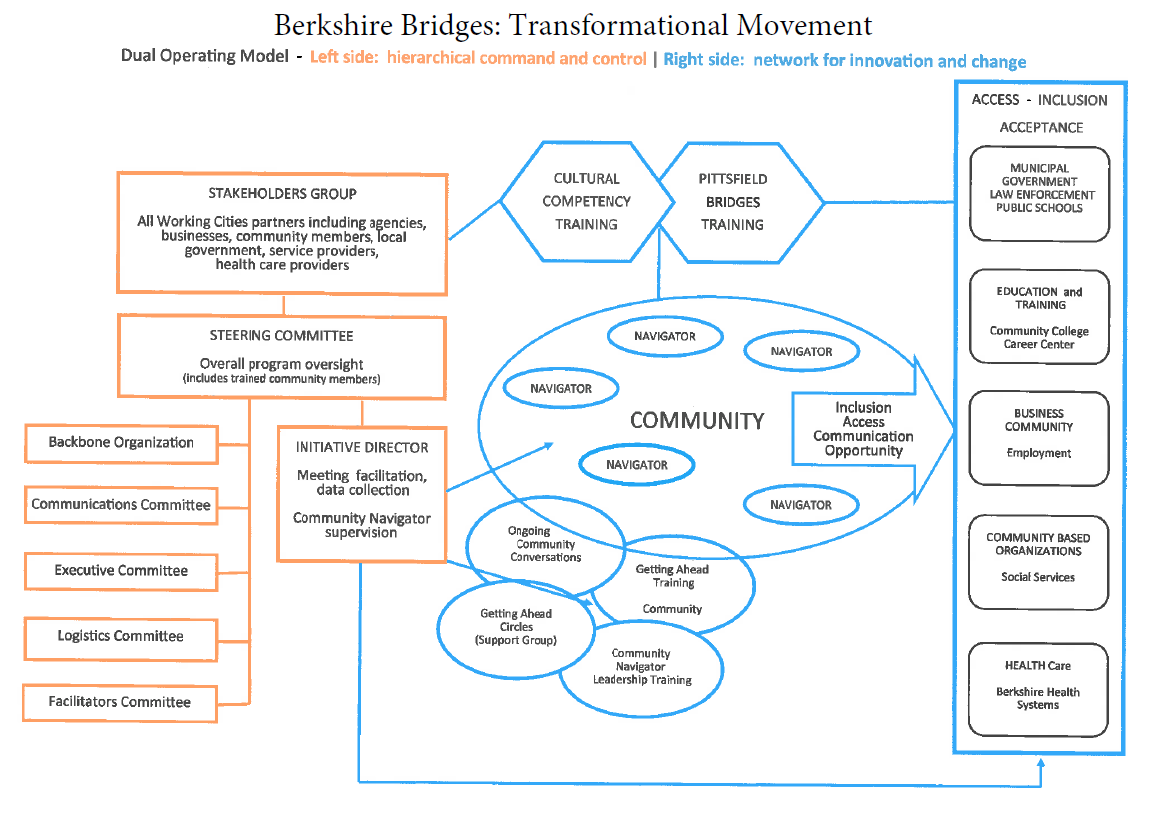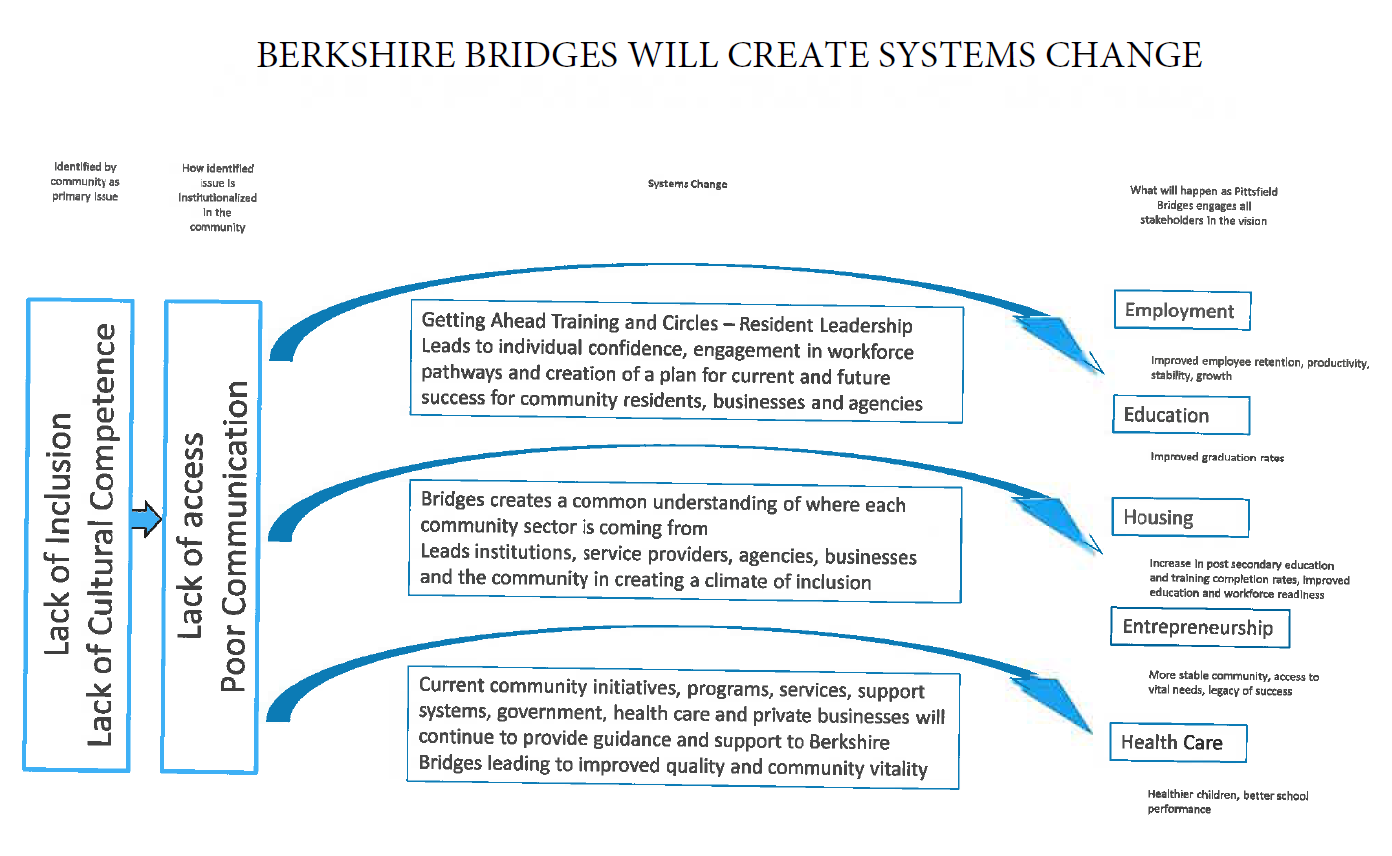 Click to download: Berkshire Bridges Operating Model and Berkshire Bridges Systems Change 
If you're new to the Berkshire Bridges Initiative, download our Berkshire Bridges guide sheets.
How can I become involved?
If you live, work, play or are in any way invested in Pittsfield, we want to hear your voice. The Working Cities Pittsfield Team meets the 4th Wednesday every month (Working Cities Wednesday) from 5:30-7:00 pm at the Family Resource Center on 480 West Street, Pittsfield. During these sessions, we want to hear what you feel are the greatest challenges preventing you from achieving a high quality of life in Pittsfield. We also have committees for planning and implementing the our initiative, including becoming a Bridges Champion for your agency or a resident Community Navigator.
---
Visit our Events page to attend our upcoming meetings and events in the community!
If you are part of a community group and would like to be party of the Berkshire Bridges Initiative, or are interested in becoming a resident Community Navigator, please Contact Us.
If you are a business, non-profit, office or community group ready to commit to our vision, please visit our Partners page.